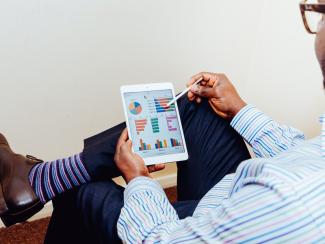 Tips for Safely Investing During the COVID-19 Pandemic
Intro
There's no hiding from it now – we're in a bear market caused by the COVID-19 pandemic. The stock market has dropped significantly since is February 2020 peaks and it doesn't show signs of rebounding until folks can go back to their jobs safely. But as either a part-time or full time investor, your work still continues from home.
Faced with the prospect of investing in a time of coronavirus, many folks have chosen to simply pull out of their investment market entirely. You don't need to take such a dramatic approach, though. Instead, these following tips can help you navigate the choppy waters of the current market effectively.
Rebuild your Capital Pool Carefully
If you're like most investors out there right now, your capital pool has recently shrunk due to loses while in the market. As a result, you have fewer assets to invest while trying to get back on your investing feet. Now, you'll need to rebuild your capital pool to an acceptable level. This may take some time but doing so carefully will pay off in the short-term.
To do this, you may need to dip back into your personal finances. If you do this, only withdraw fixed amount at fixed points, almost like a loan payment. This will allow you to gradually rebuild your capital pool without making it harder to get buy during the crisis. At the same time, don't invest any assets that you may need to cash out in the next 1-2 years. It's difficult to know how long the current recession will last, so it's best to be safe than sorry if it drags on for a while.
Stick to Your Investment Strategy (For the Most Part)
The current economic crisis is unlike anything most investors have seen before. As such, some have felt the need to adjust their investing strategy to match these unprecedented times. But doing that could be ruinous during this time of economic upheaval. Instead, this is a good time to stick to your guns. Refocus it on stocks that are currently succeeding or add a few bonds if you must, but now is not a time to shake things up…
…with one exception. Now is not a good time to focus on timing the market. Many investment strategies rely on this, so I'm here to tell you that you need to put it aside for now. At a time like this, that old adage about "time in the market is more important than timing the market" rings as true as ever. Try to set time-based entry and exit points and you should find yourself with more stable returns going forward.
Keep the Long-Term in Sight
As short-term loses mount, you may feel hesitant to think about more than your immediate investing troubles. But just because the present looks bad doesn't mean you should cannibalize your future to remain afloat. If at all possible, don't decrease your long-term investments at this time. This is especially true of 401(k) investments, which will have time to recover after this current crisis subsides and the economy recovers.
The Bottom Line
My final tip for weathering this current storm is this – don't panic. Panicking in the face of dramatic stock increases will set you up for making irrational choices in the short-term. If you're panicking, you likely won't be able to utilize the tried-and-true tips described above. Try to focus on these tips going forward and you might just see some stability return to your portfolio.
*This content is developed from sources believed to be providing accurate information. The information provided is not written or intended as tax or legal advice and may not be relied on for purposes of avoiding any Federal tax penalties. Individuals are encouraged to seek advice from their own tax or legal counsel. Individuals involved in the estate planning process should work with an estate planning team, including their own personal legal or tax counsel. Neither the information presented nor any opinion expressed constitutes a representation by us of a specific investment or the purchase or sale of any securities. Asset allocation and diversification do not ensure a profit or protect against loss in declining markets. This material was developed and produced by Advisor Websites to provide information on a topic that may be of interest. Copyright 2023 Advisor Websites.